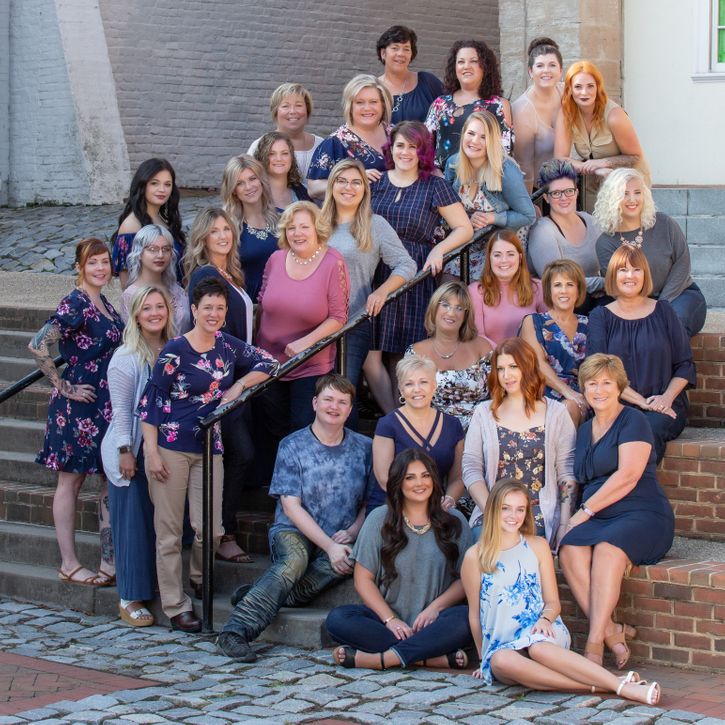 Mosaic - mo·sa·ic • /mōˈzāik/ • noun
A mosaic is a picture or pattern produced by arranging together smaller pieces to create a whole.
Martha Smith founded Hair Mosaics Salon Company in 1990 with one goal in mind: to surpass the expectation of each guest on every single visit. The salon's status as an industry leader in the Fredericksburg community is a testament to the success of that mission. Our phenomenal team of professionals offer world-class talent and service while creating a comfortable and caring sanctuary.
The Hair Mosaics vision, in Martha's words:
"I started my career in 1984, at a large chain salon where I met my best friend, Apryl West. We started Hair Mosaics together in January 1990. We were young and idealistic but knew what we wanted to create: an attractive space that would celebrate the many facets of beauty and support a talented team of artists. We chose our name, Hair Mosaics, to reflect this dimension.
Through time and experience, my passions have shifted. In 2014, I lost my friend and business partner after a five year battle with Colon Cancer. Persisting through that difficult time was challenging. But I knew that the best way I could honor Apryl's memory was through continuing the dreams we had started. Beginning in 2017, I renewed my commitment to make some significant changes to the salon. We moved to a new space that doubled our size and enhanced our ability to serve our guests.
What drives me now is supporting two groups of people - my team and my guests. I've learned that we aren't just "doing hair". We matter to our clients and they matter to us. We serve extended families and multiple generations, many of them loyal guests since the very beginning. We have seen each other through challenges and celebrations - sharing tears, laughter, and our life's stories along the way. Today, more than ever, our world needs kindness and connection and our salon is lucky enough to be a part of that kind of community. I know that we provide a valuable service to our guests; the greatest compliment I receive is when new visitors tell me they feel the "family" atmosphere as soon as they come through our doors."
CLICK HERE to join Martha and her incredible team!